Founder of Birmingham-based charity Islamic Relief marks the end of Ramadan with a four-mile walk while fasting
As Muslims around the world prepare for Eid-al-Fitr celebrations under lockdown this weekend, the founder of Birmingham-based aid charity Islamic Relief, Dr Hany El Banna, has today proudly shown the city his humanitarian nature with a four-mile fundraising walk.
He has embarked on this challenge, while fasting from dawn until dusk and on one of the hottest days of the year so far, to raise funds for Islamic Relief's food programme.
Money raised from today's "Walk4Food" challenge will help provide food for people in some of the world's poorest countries in which Islamic Relief works, including Somalia, Ethiopia and South Sudan.
Dr El Banna began his walk from 477 Moseley Road, where Islamic Relief started in 1984, and walked to Birmingham Central Mosque via Ghamkol Shareef Mosque, Green Lane Masjid, and Amanah Mosque.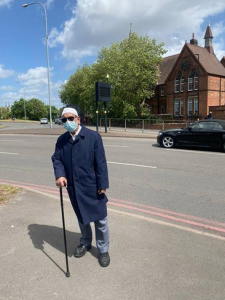 Food supply chains across the world have been disrupted by Covid-19. The economic downturns are affecting the ability of millions to afford food. Children and vulnerable families will suffer the most from extreme hunger as they cannot access food.
The United Nations' World Food Programme (WFP) last month cautioned that the coronavirus crisis could double the number of people in acute food insecurity this year, to around 265 million globally.[i]
Dr Hany El Banna said:
"We have all felt the effects of the coronavirus pandemic. Many of us have struggled with sickness or day-to-day life in isolation, and sadly many have lost loved ones. Around the world, the effects of this pandemic are being felt.
"In sub-Saharan Africa 319 million people do not have access to clean drinking water. Millions of people are being pushed into poverty. Food shortages, lack of medical equipment and those infected face an impossible struggle with the virus due to a lack of proper medical support. This is why I've decided to do a Walk4Food – to help feed vulnerable people in Africa and ensure they don't go hungry."
Muslims believe that in the month of Ramadan rewards for good deeds such as giving charity are multiplied many times. Muslims around the world will be engaged in increased worship as they look to make the most of the holy month before it ends. Many will be paying their mandatory zakat dues and optional charity, called Sadaqah, during this time.
Donations to the Walk4Food challenge can be made by visiting: https://www.justgiving.com/campaign/Walk4Food
The walk will be broadcast from 12pm on 22 May 2020 on Dr Hany's Facebook page: https://facebook.com/DrHanyElbanna