Global Punjabi music sensation AP Dhillon announces first UK tour
Chart topping 'Brown Munde' stars Dhillon and Gurinder Gill will be performing 4-city tour in February 2022. Tickets on pre-sale 27thOctober, general sale 29th October.
TCO announce the first UK tour of global Punjabi music stars AP Dhillon and Gurinder Gill, taking place in February 2022. The 4-city tour will see the duo performing at Forum Birmingham on 17th February, Indigo at the O2 London on 18th February, O2 Ritz Manchester on 19th February and O2 Academy Leeds on 20th February.
AP Dhillon has been the breakthrough Punjabi music act of the last year. Hailing from British Columbia, Canada, Dhillon's inimitable style of fusing big hip hop and trap beats laced with flawless Punjabi lyrics and vocal delivery have taken the world by storm. Having topped the UK Asian Music chart and UK Punjabi music chart with huge hits like 'Brown Munde', 'Insane', 'Majhail' and 'Excuses', Dhillon and creative partner Gurinder Gill will be bringing their flair to UK stages in February 2022 for the first time.
On announcing the UK tour, AP Dhillon says: "Since day one the love and support we have received from the UK has been truly amazing and we are beyond excited to connect with our fans during our first ever UK tour."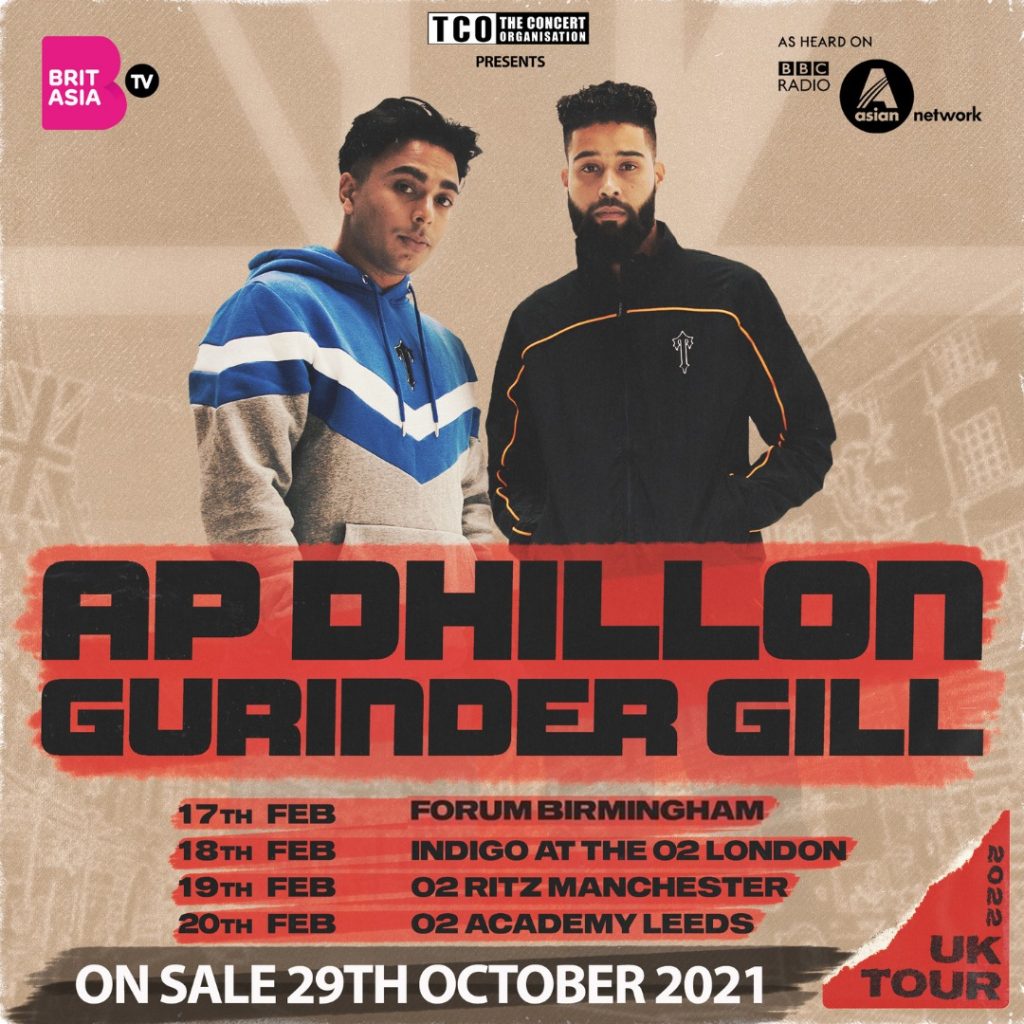 One of the stand out South Asian hits of the last few years, Dhillon's anthem 'Brown Munde' put Punjabi music back on the global map. Since releasing last year, 'Brown Munde' has surpassed an incredible 385 million YouTube views and over 78 million streams on Spotify, cementing itself as one of the biggest songs in the world. The song has been a cultural reference point for the South Asian community, having been shared by Bollywood superstar Ranveer Singh, several Indian cricket stars, UK rap producer Steel Banglez, Punjabi singer Sidhu Moosewala and hip hop star Nav, who features as a cameo in the video.
With an army of fans and followers, a repertoire of huge hits and unmistakable Punjabi swag, AP Dhillon is set to take over the UK with his first live tour, ably supported by Gurinder Gill. The duo bring their 4-city tour from 17-20th February 2022, presented by TCO.
The tour will be supported by media partners Brit Asia TV and BBC Asian Network.
Tickets are on pre-sale from 27th October and general sale from 29th October.