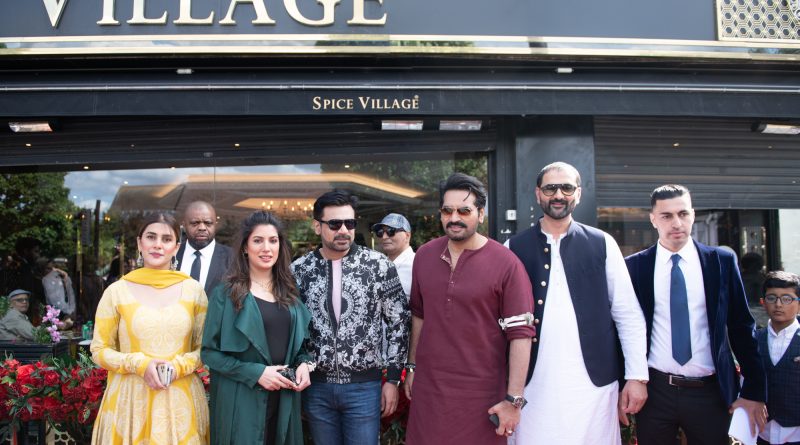 LONDON NAHI JAUNGA is the only Asian Film in the TOP 10 UK Charts this Week
Head down to your local cinema this week to witness the launch of the most dramatic and spectacular rom-com of the season – London Nahi Jaunga.
Smashing box office figures on day two (£100k+) of its release, this 'must-watch film' stars a massive star cast featuring Humayun Saeed, Kubra Khan, and Mehwish Hayat. The film is at 8 number position this week in UK's top 10 Charts giving competition to Hollywood biggies like Thor, Minions, Top Gun, and Jurassic World Domination.
Released on the 8 July, the film is now available in over 60 cinemas nationally, from Aberdeen to London, Belfast to Leicester run by the Vue, Odeon, Cineworld, Light, Everyman, Empire, Piccadilly, and Showcase chains.
Glitzy, glamorous, larger-than-life grandeur, and non-stop action, London Nahi Jaunga is entertaining with lively, graceful, musical and irresistible songs.
Sara has always felt there was something missing from her life. Her world takes a 360° spine when she stumbles on her mother's diary and finds that her father had died in very mysterious circumstances. Even more unexpected is the discovery that she has not always belonged in London, but in Pakistan where her mother's family lives. Setting out on a journey of a lifetime, Sara heads out to rediscover her roots only to find her relatives do not even know she exists. Trying to solve the mystery of her father's death leads to encounters with his killer – who wants her dead too. Add in a love interest to this mix in the form of Chaudry Jameel, and the scene is set for an electrifying, emotive relationship. Will Jameel follow her back to London? Will he fight for her love? Can Sara bring justice to her parents? Will any reunion of warring families ever be possible?
Describing it as 'the most expensive film I've ever made', Humayan Saeed (best known for his portrayal of Dr Hasnat in Netflix's The Crown) takes the key role of Chaudry Jameel. His co-stars are Kubra Khan and Mehwish Hayat, together with a host of familiar names like Saba Faisal, Sohail Ahmed, Vasay Chaudhry, and Gohar Rasheed.
At key national and international cinemas, London Nahi Jaunga was the first choice movie to watch, regardless of four other South Asian movies released on the same day.
London Nahi Jaunga is the first Post-covid Pakistani movie that has had some amazing viewing figures, despite facing stiff competition from Hollywood Films.
Want a sneak preview?
Watch the London Nahi Jaunga trailer here and rush to book your seats at the nearest cinema and enjoy the most electrifying performances of this summer.
This movie is distributed by Rising Star Entertainment Limited (UK)
Find your nearest cinema Today!
CINEWORLD – Aberdeen – Queens Links, Ashford, Basildon, Belfast, Bolton, Bradford, Dublin, Hemel Hampstead, High Wycombe, Feltham, Hounslow, Ilford, Wandsworth, Wembley, Wood Green, Luton, Newcastle Upon Tyne, Rushden Lakes, Stevenage, Warrington, Wolverhampton & York
THE LIGHT – Bolton, Bradford, Banbury & Cambridge
EVERYMAN – Broadgate & BarnetEMPIRE – Slough & Sunderland
PICADILLY – Leicester
SHOWCASE – Derby, Leeds, Coventry & Bristol Avonmeads
ODEON – Birmingham Broadway Plaza, Birmingham New Street, Cardiff, Coventry, Greenwich, Hatfield, Huddersfield, Leeds/ Bradford, Leicester, Manchester Great Northern, Metrocentre, Oldham, Preston, Rochdale, Stoke, Trafford Centre, Uxbridge, Wimbledon & Coolock.
VUE – Star City, Blackburn, Croydon Grants, Dagenham, Dublin, Harrow, Reading, Romford, Shepard's Bush, Watford & Westfield Stratford
Main Image – @RoofulAli