SALMAN KHAN GOES BACK TO HIS ROMANTIC ROOTS FOR RAJSHRI PRODUCTIONS FAMILY DRAMA PREM RATAN DHAN PAYO
SUPERSTAR SALMAN KHAN GOES BACK TO HIS ROMANTIC ROOTS FOR RAJSHRI PRODUCTIONS FAMILY DRAMA PREM RATAN DHAN PAYO
Releasing this Diwali on 12 November 2015
India's leading man Salman Khan will resume his popular mantle of romantic hero in the eagerly anticipated family drama Prem Ratan Dhan Payo, releasing internationally on 12th November 2015 through Fox Star Studios. The film sees the coming together, after over a decade, of Salman Khan and legendary film studio Rajshri Productions, as they collaborate once again for an enchanting story of family values, love and morality.
Director Sooraj R. Barjatya pens the story and screenplay of the film featuring an esteemed cast comprising: Salman Khan, Bollywood darling Sonam Kapoor (Ranjhana, Aisha), Neil Nitin Mukesh (New York) and Anupam Kher (Hum Aapke Hain Koun, Baby, The Silver Linings Playbook), amongst others. The beautiful, melodic musical score is by popular songwriter and vocalist Himesh Reshammiya together with Sanjoy Chowdhury.
Salman Khan, who rose to prominence as Indian cinema's favourite romantic screen icon in such Rajshri Productions mega hits as Maine Pyar Kiya, Hum Aapke Hain Koun and Hum Saath Saath Hain, will again assume the role of the 'Prem', a character that historically places the institution of family and familial relationships at the epicentre of his life.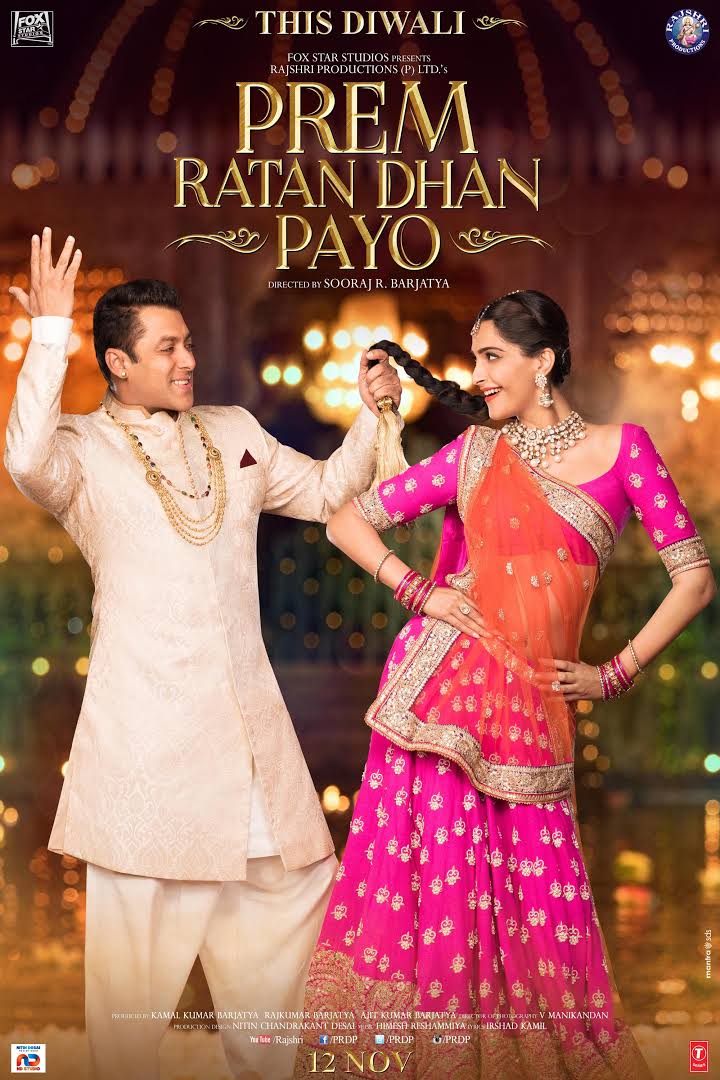 Prem Ratan Dhan Payo tells the story of Prem 'Dilwala', a happy go lucky man who does 'Ramleelas' (stage plays based on Lord Rama) in Ayodhya, India. He knows all the Shlokas (Vedic songs) by heart and the purity of the scriptures resonates in all his pranks and fun. All that he earns, he donates to a charitable fund which is run by Princess Maithili. He is enchanted by the simplicity of her nature, her leading a normal life and yet being brave enough to save people in the middle of floods, and sets out to meet her. Prem Ratan Dhan Payo is about Prem's journey to meet Princess Maithili and the purity of the bond that they share. The film represents the unconditional love that all families must have for each other.
This Diwali, Prem Ratan Dhan Payo promises a grandiose tale that sets the scene perfectly for an opulent, dreamy and spell-binding, feel-good family drama, to captivate the hearts of cinema-goers the world over.
Prem Ratan Dhan Payo releases internationally on 12th November 2015 through Fox Star Studios.