Top 5 Places for Pani Puri around London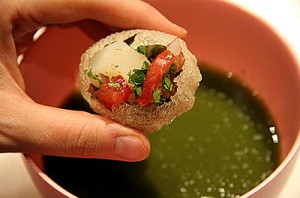 The Panipuri is also commonly know as a Gol gappa. Its a very popular street snack in India, Pakistan, Bangladesh, and Nepal. It consists of a round, hollow puri, fried crisp and filled with a mixture of flavoured water (pani), tamarind chutney, chilli, chaat masala, potato, onion and chickpeas. It is generally small enough to fit completely into one's mouth.
It is a popular street food dish in Mumbai, Delhi, Lucknow, Karachi, Lahore, Dhaka, Kolkata, Kathmandu and now London, Birmingham, Leeds, Leicester and Manchester.
Pani Puri is so wide spread across the globe. Try it at your local restaurant today.
PANI PURI IN LONDON 1: GIFTO's Lahore Karahi, Southall.
This restaurant's vision is to give people in and around London a taste of the delicacies of Lahore Pakistan and, yes, it succeeds. Relish the yummy pani puri here!
Telephone: 020 8813 8669
Address: Gifto's Lahore Karahi, 162-164 The Broadway, Southall, Middlesex.
PANI PURI IN LONDON 2: Sakonis, Wembley
Famous for its crispy puris, this is a must try!
Telephone: 020 8903 1058
Address: 127 Ealing Rd, Wembley, HA0 4BP
PANI PURI IN LONDON 3: Diwana Bhel Puri House
Highly recommended for its tasty pani puri!
Telephone: 020 7387 5556
Address: 121 Drummond Street NW1 2HL
PANI PURI IN LONDON 4: Masala Zone
Lentil and tamarind stuffed wholewheat biscuits; filled with spicy dressing. Mouthwatering dine.
Telephone: 020 7386 5500
Address: 583 Fulham Road, London SW6 5UA
PANI PURI IN LONDON 4: Bombay Cafe Dishoom
Cold and crunchy, light and lovely. Puffed rice, Bombay Mix and nylon sev tossed with fresh
pomegranate, tomato, onion, lime, tamarind, mint. Around 3.90
Telephone: 020 7420 9324
Address: 7 Boundary Street, London E2 7JE (Covent Garden and Shoreditch)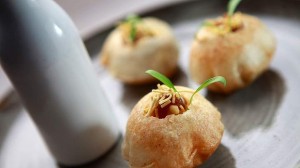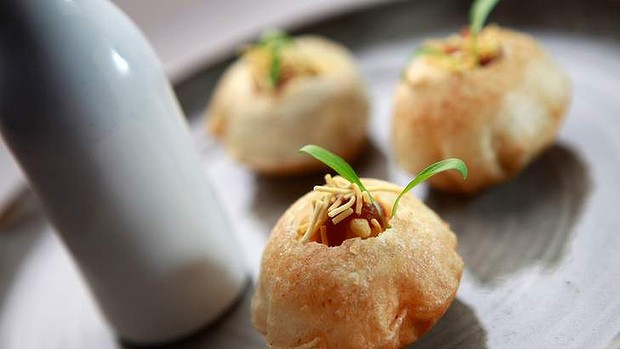 If you know a great place to eat Pani Puri, drop us an email : editorial@desimag.co.uk